Reading
Screen Reader User Survey #8. I've been doing a fair bit of work toward improving a site for screen readers at the moment and it's been an interesting ride. It's interesting looking at the range of options and devices, the diversity of reasons people use them, and the often simple fixes that can effectively make or break an experience. I say 'interesting' and I mean 'interesting' but I should also add, 'occasionally challenging'. I am not a user of screen readers other than for testing, so my judgement about what works and what doesn't certainly isn't always right. (Thankfully there are people with much more experience who have been willing to put up with my questions and I'm definitely coming out of this block of work with much more knowledge).
Anyway, these survey results came out at a good time. Some interesting stuff to think about in here…
18% of respondents think web content is getting less accessible 👎

34% of people think that's because a lack of skills/knowledge in web developers 👨‍💻

75% say that PDF documents are problematic ⚠️
VAST majority of screen reader users customise their settings (93%) (what's the impact on testing across all of these permutations? 🧪)
68% would use headings in the first instance to navigate a long page – only 3% would use landmarks (it's so important to get the basics right 📝)
Plenty of other bits too. You should go and read and look at charts.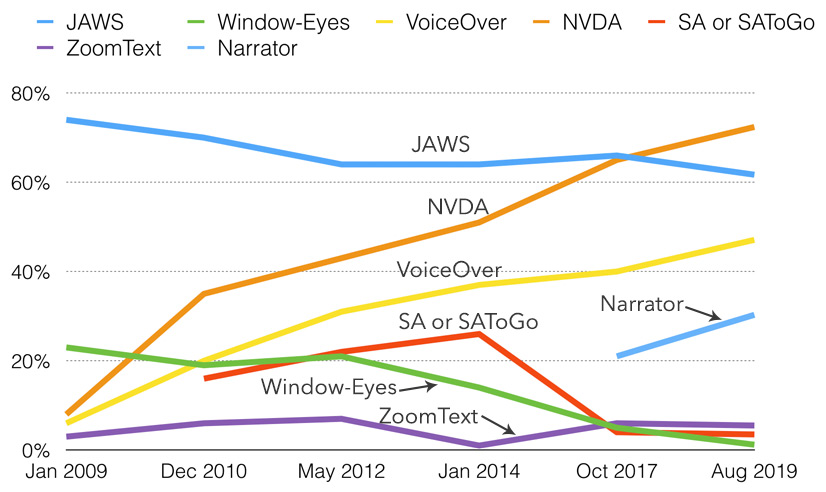 ---
The Controversial Use of Rap Lyrics as Evidence. A piece about the fact that some people have difficulty distinguishing art and reality.
This week … the Brooklyn rapper Tekashi 6ix9ine, took the stand to testify against alleged members of the Nine Trey Gangsta Bloods, the gang with which he associated himself. … At one point, prosecutors asked him about the lyrics for his hit song "GUMMO," and whether the words included any threats against rivals. "It's a song towards, like, somebody who I didn't get along with," the rapper said. "I don't know. I thought it was cool at the time."
This isn't new, and 6ix9ine probably deserves to have any and everything used against him, but still, it's frequently ridiculous. You can see it lately with drill, form 696, Drakeo The Ruler and so on and so on.
"We have searched widely, and, based on our research, rap is the only fictional art form treated this way," she said. "No other musical genre and no other art is used in the same way or to the same extent."
Listening to
The Adam Buxton podcast Ep. 101 – Book Club: 'The Catcher in the Rye'. I wanted to listen to this a) because Adam Buxton, Sara Pascoe, and Richard Ayoade are fun people to listen to, and b) because I wanted to see if they could change my mind about that book. I read it once, quite a few years ago, and really disliked it for reasons that I could never fully articulate. The constant 'phonies' was one thing for sure though.
Hearing them talk about it didn't make me want to rush out to get it again, but it did make me think that maybe I just didn't really get it first time around. So… I'll probably give it another chance at some point. I mean, they're all great people, and they seem to like it, so it must have some redeeming features, right(?) Stay tuned.