Listening to
99% Invisible 354: Weeding is Fundamental. All about a very specific consequence of the 1989 Lomo Prieta earthquake – how it affected the San Francisco library, where shelves and filing systems were thrown into disarray, leading to half a million books scattered across the floors. Off the back of that, they needed to prioritise which books were re-shelved [in the reduced space available] and which were discarded.
Libraries get rid of books all the time. There are so many new books coming in every day and only a finite amount of library space. The practice of freeing up library space is called weeding. "It's like, you have to weed your garden for […] the flowers to grow," says Sharon McKellar who supervises Teen Services at the Oakland Public Library.
This is one of those episodes that I truly love; it's a fascinating look at something that I'd never really put much thought into, but now won't be able to stop thinking about. There are Guerrilla librarians, the advent of the Internet, coding systems, and MUSTY guidelines.
It's made me want to go straight to the library to start appreciating things more.
Weeding isn't just about what to cut. It's also about what to keep. It's about what the public wants to read. And so every time you check out a book from the library, you are casting a vote, to your local librarian out there in the weeds, to keep this title in circulation.
Reading
The secrets of London's hidden rivers revealed. I love stuff like this. It's one of the reasons I'm sad about living somewhere which only has a couple hundred years of history – there's very little chance of stumbling onto a Roman bridge or hearing a river flowing somewhere under the pavement.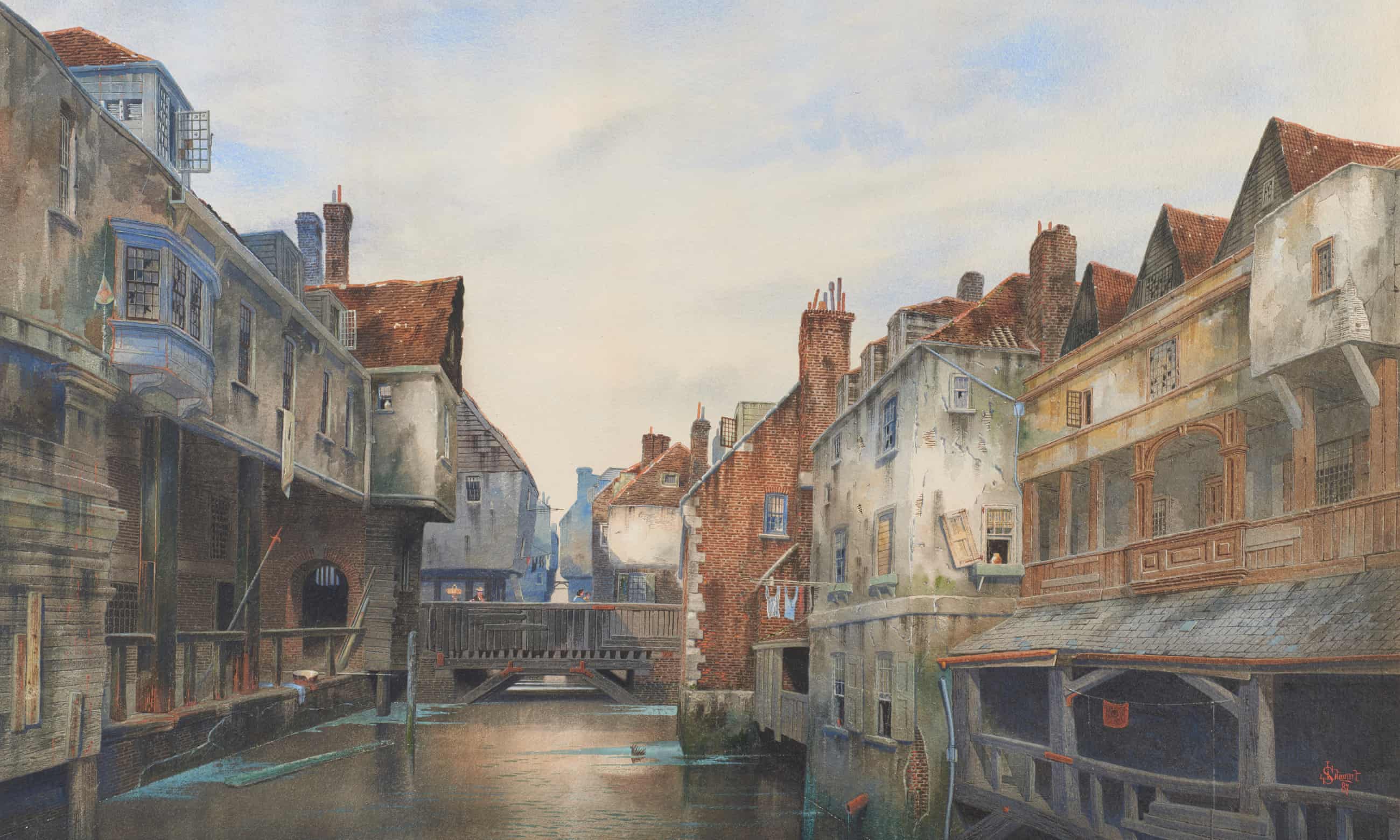 Jacob's Island, Bermondsey, depicted in watercolour by James Lawson Stewart, 1887. > Ignored, abused, diverted to turn mills or feed boating and skating ponds for the leisured classes, choked with rubbish, entombed in pipes and culverts, some of the rivers survive only as a soggy stain in the clay, but others still flow unseen beneath Londoners' feet.
I quite like the idea of one of these tours, or at the very least getting a book and looking out for signs of these rivers next time I'm in London. I still want to do a LookUpLondon tour though, so that might come first.
---
How Quorn makes the filling for Greggs' vegan sausage rolls. I've still not had a vegan sausage roll (I don't think I've ever had anything from a Greggs come to think of it) and I had no idea they were actually Quorn. As someone who has Quorn for roughly 75% of my evening meals, and as someone who loves sausage rolls, I should be all over Greggs. Not to mention the fact that it seems to offend Piers Morgan so much, so it's got to be a good thing. Next time I pass one, it's on!
Now a familiar household name, Quorn is benefiting from the soaring popularity of flexitarian' diets – where a largely vegetable-based diet is supplemented occasionally with meat – and the growing trend for consuming meat alternatives and plant-based eating.
That's me that is. I've always thought that the explanation behind Quorn sounds weird – "a dried seed culture derived from a fungus found in soil" – but surely no more weird than "a slab of flesh derived from an animal found in a large metal room without light or fresh air" ¯\_(?)_/¯. I don't know if Quorn specifically is the future, but for now it's pretty good (Quorn nuggets >>>> chicken nuggets, don't @ me), and I'm definitely sure that meat is not the future. It can't be.
Watching
The Society on Netflix. Teen drama / dystopian thriller / sci fi Lord of the Flies(?) I quite liked it. Interesting to think about what you'd do if your civilisation basically got reset, and then how you'd behave if you were given power over people.