Listening to
This American Life: Words You Can't Say. Couple of stories on people saying the 'wrong' thing, though in both cases, there's nothing wrong with what they said. First is about Laci Green who does that YouTube vlogging stuff that the kids love but who managed to upset all sorts of people when she called herself a feminist. Second is about Dodie Horton, a republican gun advocate who dared to suggest that incredibly realistic toy guns might not be a great thing for kids to have. In both instances, the stories are really about people who cant seem to cope with the idea that someone doesn't 100% share their world view. It's a frustrating listen.
---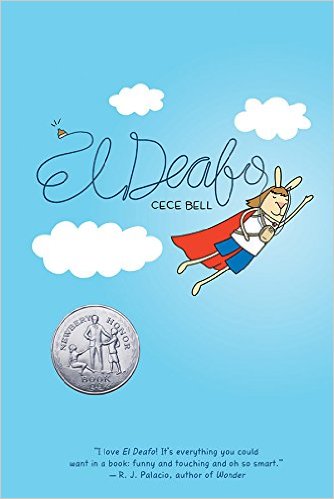 The Longest Shortest Time: The Secret Life of a Deaf Superhero](https://longestshortesttime.com/episode-86-the-secret-life-of-a-deaf-superhero/). An interview with author/illustrator Cece Bell, primarily about her graphic novel El Deafo. I'd never come across her (or the book) before but it's on my reading list now. She's got such a great story, and it's one that resonates a lot; my mum also lost her hearing to meningitis as a toddler and went through a lot of the same experiences that Cece talks about. Cece's parents opted to go for a hearing aid and go down the 'hearing' route where my grandparents decided to go the other way and get my mum into a deaf school. It's always interesting for me to get the different perspective on it – away from what specifically happened with my mum – and this is a particularly insightful discussion.
After listening, I found this piece on The Guardian called 'how I made El Deafo – in pictures' which is a great accompaniment to the interview.
---
99% Invisible: Border Wall. Another Trump type episode to get angry about, this time about building that wall.
In 2006, President Bush signed a law to begin building an eighteen-foot-high fence along key parts of the border between the United States and Mexico. Today, sections of that fence cover about a third of the border. The idea is simple — putting a physical barrier along an invisible line — but the reality is a bit more complex.
Trumpness aside, well worth a listen as always… Some interesting facts about Mexico/US border relations.
---
6 Music Loves NYC: The Wu-Tang Clan Radio Show. 2 hours of RZA and Mathematics playing solid GOLD. Plenty of hip hop, plenty of the original samples from plenty of hip hop, and a bit of chat. It's easily my favourite radio show of the year so far. 25 days left to listen!
Reading
The Front End Interview Handbook. I'm not currently looking for interviews, but always good to keep one toe in right(?) It's a collection of questions to test FED knowledge (with some suggested answers) and I've got no shame in admitting there's a few there which tripped me up. Note to self: need to brush up your JS.
---
This thread by @ApertureAwesome about how the game Firewatch changed his life.
1. Apparently this is the two-year anniversary of Firewatch, a video game made by the great people from @camposanto. It sounds dumb but the game honestly changed my life. I kinda want to talk about it, cause it's pretty important to me at this point.

— Jack (@ApertureAwesome) February 10, 2018
Making
An svg generative art thing. Quick foray into using Snap.svg to manipulate svg's, to make this piece which randomly produces art that you can then save.