Looking at
A lot of photography. I'm in the midst of trying to finish off some sort of portfolio of my own, but I keep getting distracted by other people's work. Such as Dark Stores, Ghostboxes & Dead Malls 2008 – 2012 by Brian Ulrich – images of abandoned malls across the US. Ha Aretz by Roger Grasas – photos of formally biblical places (Palestine, Egypt, Lebanon, etc). Paradise Lost by Georg Gerster – a birds-eye view of Persia.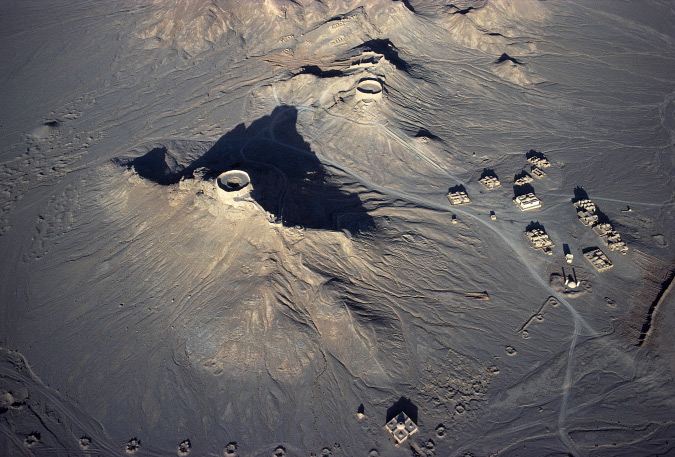 Reading
This interview with Santi Cazorla which goes someway toward conveying how hard it can be for footballers to deal with (and come back from) serious injury. I'm glad he's managed to get back on the pitch – even if it's not for Arsenal.
… for 636 days he did not play. Most thought he never would. There were nights where, lying alone a long way from home, he gave up. "I'd talk to my family and say: 'It's over. Tomorrow I'll tell Juancar, the physio: I can't go on, pal.'" But here he is, just finished training. He has started all three of Villarreal's games this season.
Continuing the football chats, there's also this interview with Peter Crouch which is behind a registration page but worth giving your email address for. Add it to the collection of good things that have been said recently about his upcoming book, which I'll never read, but if I read footballers life stories, I'd read this one first.
Listening to
This American Life 504: How I Got Into College. A couple of stories about the admissions process, the main one being about Emir Kamenica …
… whose path to college started with fleeing the war in Bosnia and becoming a refugee in the United States. Then he had a stroke of luck: a student teacher read an essay he'd plagiarized from a book he'd stolen from a library back in Bosnia, and was so impressed that she got him out of a bad high school and into a much better one. He went on to Harvard and great success. Years later, he tracks down the student teacher to thank her, only to find that she remembers the story differently.
It's a great story – both parts are, in fact – and it got me thinking a lot about my own route through higher education. In my head, I still basically attribute it to one person who got me to stop being a lazy teenager living at home, 'forced' me to fill out application forms, and convinced me it was all worthwhile. I still credit him for all of it, and who knows what would've happened if I didn't get that intervention. BUT. Listening to Emir's story, and seeing the perils of memory and writing your own history, now I'm not so sure about any of it. Maybe it was totally different. I'll never know. I need a popular podcast to research my life history for me please, thanks.
Watching
This Eminem impression. I've genuinely listened to this more times than any song on Em's new album. Using way too many napkins.
This funniest shit I've seen all day g. He say this how Eminem raps. pic.twitter.com/9lc8cWA5yd

— Larry Legend (@larryislegend) September 2, 2018